'When I am an old woman I shall wear purple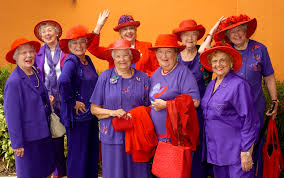 With a read hat which doesn't go, and doesn't suit me.'
– Jenny Joseph
How cool is this?! The Red Hat Society was inspired by the first two lines of Jenny Joseph's poem 'Warning', when Sue Ellen Cooper, a California artist, gave a red fedora to a friend on her 55th birthday – saying that it was possible to grow old playfully and on one's own terms. After giving a few more red hats to friends, they bought purple outfits and held the first meeting of the Red Hat Society in 1998. It is dedicated to embracing life, fulfilling lifelong dreams, and friendship.
News of the Society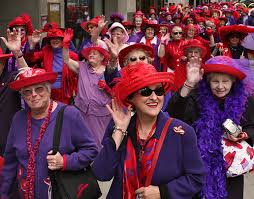 spread at first by word of mouth, then received publicity in some national American magazines. They were deluged with requests to help set up chapters of the Society. They now have a 'Hatquarters' and have grown from the few original members to over 70,000 members. It is now an international society which promotes bonding and social interaction among women, particularly among those over 50 years of age (though younger women are welcomed as 'Pink Hatters').
Their goal, in addition to the mutual support and social events, is to change the way women are viewed in modern culture through freedom from stereotypes and by encouraging the achievement of (perhaps postponed) goals and dreams. They see physical fitness as the basis of a healthy and rewarding life.
How splendid that a poem has inspired a worldwide movement to help women achieve their full potential – and have a lot of fun! Clearly there is a lot of laughter and smiling in the photographs. Of course, any of us can dare to wear a little purple or a red hat to remind ourselves of our own wonderful spirit and all the possibilities open to us.
Do remember the final lines of the poem:
'But maybe I ought to practice a little now?
So people who know me are not too shocked and surprised
When suddenly I am old, and start to wear purple.'