ONLINE 1-TO-1 SESSIONS
But good news! I am now offering online one-to-one sessions on Zoom. Sessions can be arranged for a mutually convenient time, with times available in daytimes and evenings. Zoom is really easy to use and you can now enjoy a session from the comfort of your own home. Sessions are 90 minutes for only £50.
To arrange an appointment use the contact form on this website, or email Laura at contact@writingforwellbeing.co.uk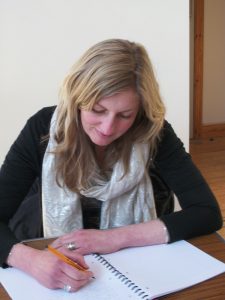 These sessions are tailored to your own individual needs for healing and growth in complete privacy. For example, you might like activities to:
promote increased mindfulness and focus
help make choices and changes in your life
gain a new perspective
work with your own life story
use poetry as a path to healing
encourage you to feel good about yourself
increase self-kindness
release stress
open up your creativity
You will be guided through easy and enjoyable writing activities, which we will do together. You never have to read aloud anything you have written, but there will be full opportunity to discuss the results of the activities and your feelings about them.
A personalized 90-minute session includes a discussion of your personal needs and an introduction to Writing for Wellbeing. Then we'll do some gentle activities tailored to the kind of growth you wish to achieve or the issues you want to address. We can also use the session to open up your creativity — to work with pieces of writing you are doing or are planning. Our writing will help you release limitations, tap into your 'inner writer', and access your own deep wisdom. These activities are tools which you can take away with you and do more of at home as you like.