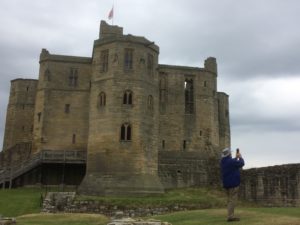 On a recent trip to Northumberland, I saw a great many castles. A lot of these castles are now, of course, beautiful historic ruins with wonderful, and somewhat mysterious atmospheres (at least, more mysterious if you eschew English Heritage's audioguides!). While we know a lot about the use of these castles, it is also fun to let your creativity run free and imagine what these castles were like when all the walls and interiors were intact and people lived their daily lives within them.
But I also saw other castles of the imagination – some splendid sand castles on the beach at Alnmouth. Perhaps the architect of these formidable structures had just been to see one of the castles up the coast – Warkworth or Dunstanburgh – and was inspired to create their own version. This just goes to show that, where imagination is concerned, you can start great or small, and there are endless possibilities.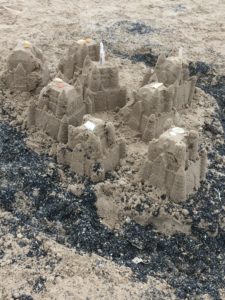 Puts me in mind of Anne of Green Gables (that feisty heroine of Lucy Maud Montgomery's novels) who said, 'Isn't it splendid to think of all the things there are to find out about? It just makes me feel glad to be alive – it's such an interesting world. It wouldn't be half so interesting if we know all about everything, would it?'
So whether you visit castles of stone, construct them of sand, or build castles in the air through your writing – just keep on imagining!