Reading in groups has special therapeutic effects, according to The Reader Organization. This doesn't just mean a book group where you read alone at home and come together to discuss it – it is about shared reading. That's people coming together to read aloud poems and stories. Social connections are made, thoughts may be discussed, and works of literature are shared by all.
Writing in groups has a similar therapeutic effect, as I have seen in my Writing for Wellbeing workshops. At a recent workshop at Merchant City Yoga in Glasgow themed to Change and Growth, we were grounding ourselves with the activity of writing about our personal achievements. In the discussion afterwards, one participant commented that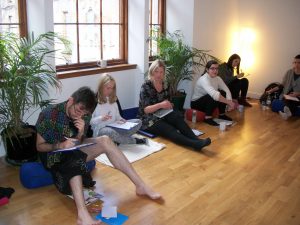 she could never normally write about her own achievements. But it was easy to do in the workshop because she had been given 'permission' to do so, and what is more everyone else in the room was also writing about their achievements at the same time. She found it very liberating and enlightening.
Others have commented that having dedicated time to write in a group makes it easier to leave outside stresses and concerns behind, and just focus on personal expression and exploration of self. It's a little time to achieve some clarity and calm, facilitated by the fact that everyone there is doing the same thing, too.
That's the beauty of Writing for Wellbeing workshops — it's the chance to come together with like-minded people using their creativity to expand their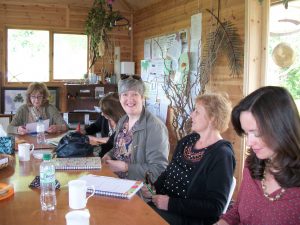 personal awareness, increase feelings of positivity, and find paths forward by means of their own inner wisdom. Keeping in mind that we never have to read aloud anything we have written, the very act of writing together in a group creates an atmosphere where it feels okay to write whatever you need to write on that day.